Leading Change to Improve Performance, Innovation, & Growth
KEYNOTES | CONSULTING | COACHING
When organizations 
transforM through change,

they Create new value and new opportunities.
Change can be difficult to navigate, and failing to transform can lead to a number of problems. If you are facing the challenges of a change in your organization you might be asking yourself these questions:
What are the potential consequences of failing to change in our organization?
Can our team members adapt and embrace change?
How can we effectively lead our organization if we have uncertainties or fears?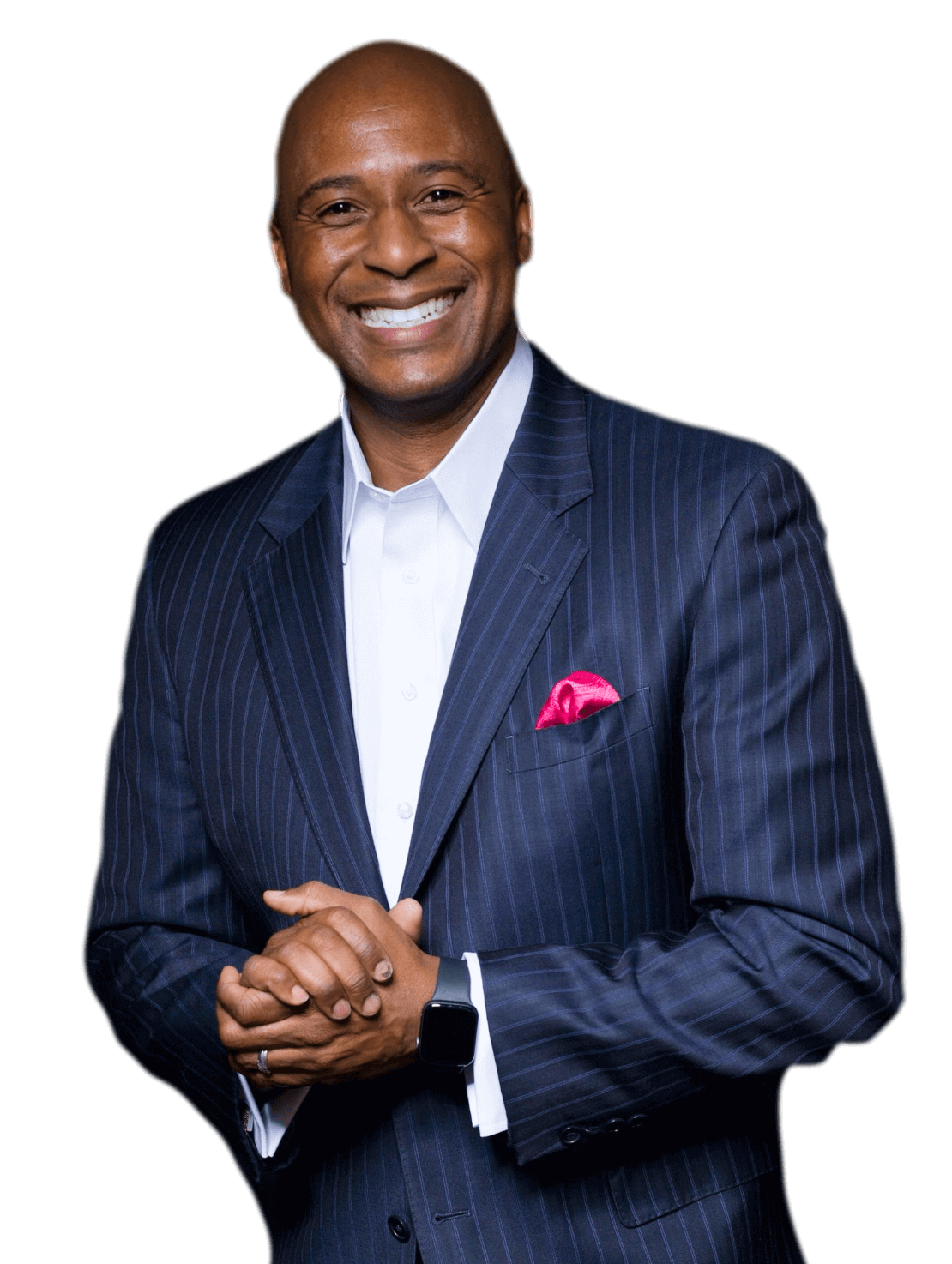 Disturbing the 'Status Quo'
Transform Your Culture From 'What it is' to 'What it could be.'
Change is something that can NEVER be avoided. What do leaders need to know to make that change work FOR them?
Through research and personal experience, Dr. Jones created the I AM Model™. This model provides a comprehensive three-step approach to help organizations and their leaders to Transform through Change that improve relationships, lead to success and ultimately increase profits.
The I AM Model™ 3 Step Approach
Designed to help individuals and organizations tap into their inner strengths and take actionable steps towards achieving their goals. This powerful approach can help bridge the gap between the current reality and desired outcomes.
STEP 1. Reclaim Your
IDENTITY
Many of today's leaders are suffering from an identity crisis. The magnitude of this crisis can range from distorted, diluted, and destructive behaviors, and in some cases a deranged form of what they inaccurately define as leadership. When leaders become lost and confused, it doesn't just impact them – it creates a ripple effect through an organization with a destructive force much more closely resembling a tsunami. CHANGE will require an organization and its leaders to reclaim their IDENTITY to generate NEW VALUE.
STEP 2. Resubscribe to
ADAPTABILITY
Change is a natural part of life and workplace adaptability is the ability to respond effectively to different scenarios and challenges within the workplace. Adaptable leaders develop targeted skill sets, processes, and frameworks that allow them to deal with different situations quickly and efficiently as they arise. When leaders don't adapt, they lose their ability to embrace change, they have a closed mind about what's possible, and anxiety tends to grow about losing opportunities.
STEP 3. Rejuvenate Your
MOTIVATION
Change of any sort is usually somewhat stressful, uncomfortable, and challenging. And more importantly, it is a process that gradually unfolds over time which has an impact on our motivation. We can grow frustrated by other's resistance or lack of enthusiasm for change and the practices we use may threaten critical drivers of motivations. It's important to know that motivation comes in different forms, which are also linked with different results. Since all motivation is not desirable, it's important to rejuvenate your motivation by avoiding those practices that are counterproductive.
Build a Foundation for Success: The Importance of Knowing Where You Are
Transform through Change (TTC) Leadership Audit
The number 1 rule in leadership is to lead yourself first before you can lead anyone else. This audit will help you to take a good look at where you are so you can get to where you want to go.
In just 15 questions, our TTC Leadership Audit will:
Evaluate your overall organizational culture of readiness for change (Vision & Management)

Highlight where you're winning—and where you're not (Teams & Goals)

Offer a step-by-step guide to making incremental improvements (Removal of barriers)
As a passionate thought leader and engaging speaker, Dr. Jones helps others learn to generate personal and professional accountability for immediate impact and lasting growth. He knows that motivation alone won't cut it when it comes to providing better service, attracting better customers, landing bigger sales, and developing long term growth.
Get ready to unleash your full potential with Dr. Jones as your guide!
Keynote Presentations
With his signature style of storytelling and experiential learning activities, Dr. Jones crafts custom presentations that are specifically designed for real-world application. His keynotes provide actionable takeaways that address mindset, behavior, and strategies to help individuals and teams navigate change with confidence and success. 
Consulting & Training
Transform your organization's success into long-term significance with Dr. Jones' tailored consulting, training, and workshop programs. Discover the power of a lasting mindset, improved collaboration, and enhanced resilience that will drive you, your team, and your organization forward.
One-on-One Coaching
Unlock your full potential and achieve your goals with personalized one-on-one coaching programs. Get ready to take charge of your life and unleash your inner leader. With Dr. Jones as your guide, gain the skills and strategies you need to overcome obstacles, reach your full potential, and create the life you want. 
What People are Saying About the work of Dr. Jones
Dr. Samuel Jones was exactly the speaker that our public health workers who are members of the MS Public Health Association needed. They came into the virtual conference being so tired from all of their work on the pandemic. His presentation lifted them up and sent them away from the conference feeling renewed and refreshed. His closing session, Necessary Risks: How to Lead and Live Beyond A Crisis was so appropriate for them at this time. The evaluations of his session indicated just how effective he was, even virtually! We can definitely recommend him for any group!
-Kay Bender, Ph.D., Executive Director
MS Public Health Association
"Dr. Jones is a phenomenal speaker! We're fortunate that our leadership team had a chance to connect with him to book him for our event. He's 10 out of 10 as a leadership speaker/facilitator!"
– Beth Tackett, Executive Director
Viking Range Corporation
Dr. Sam Jones was magic. He was able to craft a message for our group that combined his body of expertise with his own personal life experiences, motivating us to refine our skills. Dr. Jones delivery was exemplary. By combining humor, examples, and an informal but highly focused presentation, he demonstrated leadership principles and gave us useful takeaways. True learning took place. We left feeling excited and motivated."
– Carmen Kyle, Executive Director
Southaven Chamber of Commerce
Dr. Jones' presentations during my time in Leadership Mississippi were instrumental in my professional and personal growth and yet continue to be impactful as time has moved forward. He's personable, authentic, and passionate about helping others be their BEST! His thought-provoking messages are great for building effective leadership teams and personal accountability for creating and meeting expectations. The messages leave you feeling determined, READY, and willing to take the next steps that benefits the TEAM to produce outcomes.
– Dr. Sabrina Palmer, Director
MS Department of Education
SCHEDULE A DISCOVERY SESSION WITH Dr. Jones
Find out if Dr. Samuel Jones is a good fit for your organization or event by scheduling a Discovery Session!
Watch Dr. Samuel Jones
In Action
Experience the transformative power of Dr. Sam's motivational speaking as he guides you to unlock your team's full potential, cultivate a positive and thriving culture, and achieve new heights of collaboration and performance.